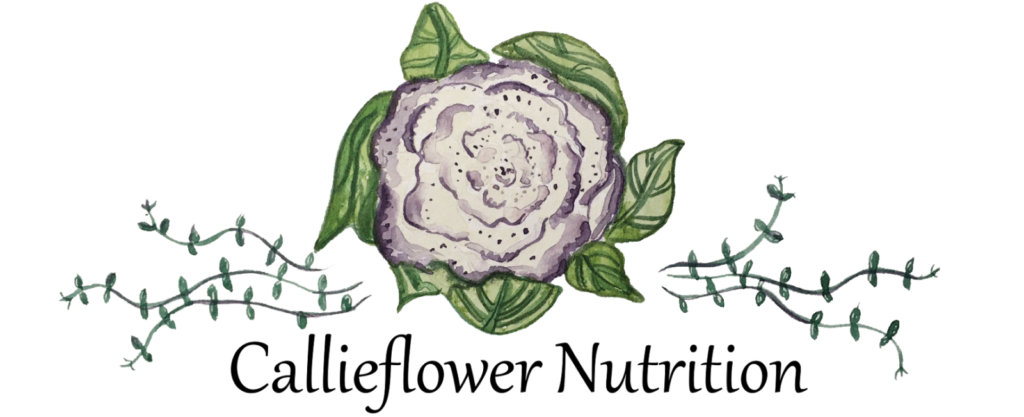 HOLISTIC NUTRITION CONSULTING – PERSONAL CHEF SERVICES – COOKING CLASSES
---
Welcome to Callieflower Nutrition!
My name is Callie, and I am a Certified Holistic Nutrition Consultant, and a graduate of SAIT's culinary program!
Food has always been a major interest to me. Providing our bodies with clean, wholesome foods has such a positive impact on our short term and long term health.
However, I also know that trying to eat healthy and cooking from scratch can be challenging. Some of the most common excuses are:
"I'm just too tired after work to cook"
"I don't have all of the ingredients the recipe asks for, so I can't make it"
"I don't know what combination of items will taste good"
"It's so much easier to eat out"
I could go on, but you get the picture. I have been dedicating my career for the past several years to understand what is good fuel for your body.
Everyone is biochemically unique, so it is important to become familiar with what YOUR body needs.  I am here to help!
---
Holistic Nutrition Consulting
– Ideal for the person who wants to learn more about the benefits of a natural, holistic diet.
– I offer one on one sessions and consult based on YOUR dietary needs
– Skin, mental, and gut health are near and dear to me, but I look forward to helping with all types of health limitations
– For more information on my Holistic Nutrition Consulting, click here
Personal Chef Services
– Perfect for those who know the importance of good home cooked meals, but might not have the time to prepare them
– I often cook large batches of food for my clients to freeze and have whenever they want
– I cook to meet a wide range of food sensitivities, allergies, or specific diets
– For more information on my Personal Chef Services, click here
Cooking Classes
– Do you just want to learn new ideas in the kitchen?
– If you want to learn both kitchen skills and new recipe ideas, these classes are for you! The classes are based in your home, or in a classroom setting
– For more information on my Personal Chef Services, click here